Testimony of a CIA Asset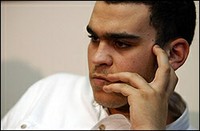 Ken Faught / Toronto Star

According to press interviews and sworn court statements, Mr. Abdurahman Khadr is a member of a Canadian family that moved to Pakistan after the 1995 bombing of the Egyptian Embassy in Islamabad. In Pakistan the Khadr family joined the Al Qaeda network and became close to Osama Bin Laden. A month into the Afghan war, in November 2001, Mr. Khadr was taken prisoner by the Northern Alliance. He was then turned over to American forces, who investigated him and eventually hired him as an undercover CIA informer. As such he was planted, in the early months of 2003, as an "enemy combatant" in Guantánamo, where Mr. Khadr's brother Omar was being held.
The lists of Guantánamo prisoners released by the U.S. government do not mention any Abdurahman Khadr. They do mention, however, an Abdul Khadr. He is described as a Canadian citizen born in 1981 and assigned ISN 990.
Although the CIA has declined to comment on Mr. Khadr, the self-described CIA asset did submit to a polygraph examination in which he was asked about his work for U.S. intelligence, being paid for it and being flown on a small jet to Bosnia for his mission there. On all major aspects of his story, Abdurahman passed the polygraph (see Frontline's editor's note here). Further confirmation of Mr. Khadr's story comes from The New York Times, which has reported that the broad outlines of Mr. Khadr's story has been confirmed by an unnamed American official (see here). And, according to the Portuguese weekly Expresso, Mr. Khadr flew from the naval base at Guantánamo Bay, Cuba, to the military base at Tuzla, Bosnia Herzegovina, on a CIA-chartered flight on November 6, 2003, making a stopover at Santa Maria Airport, in the Portuguese Azores Islands, on the next day (see Portuguese original or English translation).
Judging from the statements made by Mr. Khadr, he endured the abuse regularly alleged by Guantánamo prisoners. Even as he was working as a CIA asset. The abuse took place both when he was airborne to Guantánamo (when he wished he was shot dead by the guards), and at the base itself (where he banged his head against the walls of his cell out of desperation). CSHRA has therefore posted the testimony of abuse he has consigned in a number of places, notably:
In July 2003, Mr. Khadr was released from his duties at Guantánamo and was detailed to Bosnia. His work for the CIA ended there when he was outed by his grandmother in October 2003. Mr. Khadr has been living in Canada ever since.