Testimonies of Military Guards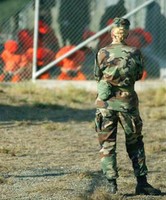 Guarding detainees upon arrival in
Guantánamo in 2002. Mother Jones
Magazine.
COL. TERRY CARRICO (RET), PRISON COMMANDER, JANUARY-MAY, 2002
SGT. JAMES GILLIGAN (Removed)
SGT. JOSEPH HICKMAN (Retired)
SPC. TERRY C. HOLDBROOKS, JR.
Notes
1. This is a declassified spreadsheet prepared by Major David Frakt (Mr. Jawad's attorney) from classified material. It is Attachment 3 to his May 28, 2008 Defense Motion to Dismiss Based on Torture of Detainee Pursuant to R.M.C. 907.