The Guantánamo Testimonials Project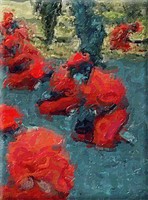 Pursuant to its mission, the UC Davis Center for the Study of Human Rights in the Americas (CSHRA) launched, in Fall 2005, a long term research project to assess the effects of the U.S. war on terror on human rights in the Americas.
Whether invoked as the rationale for the "extraordinary rendition" of Canadian citizen Maher Arar to Syria or as the basis for the suppression of indigenous movements in South America, the war on terror has had significant effects on human rights in the Americas. But nowhere have these effects been greater than at the detention facilities of the U.S. naval base at Guantánamo Bay, Cuba. Consequently, it seemed appropriate to begin our project by looking into the human rights situation at these facilities.
We begin our endeavor with The Guantánamo Testimonials Project. The goals of this project are to gather testimonies of prisoner abuse in Guantánamo, to organize them in meaningful ways, to make them widely available online, and to preserve them there in perpetuity.
The strength of these testimonies is considerable. Based on them, a number of distinguished individuals and organizations have called for the closure of Guantánamo. 

At CSHRA we take no position as to whether the Guantánamo prisoners are guilty or innocent. Yet we recognize that these individuals are, in either case, entitled to a set of fundamental rights (a) as individuals held during an armed conflict, (b) as prisoners in general, and (c) as ordinary human beings.