Testimony of the Hospital Commander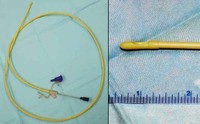 10-French Dobhoff Nasogastric Tubes.
Photo: New England Journal of Medicine

Captain John S. Edmondson, M.D., was the commander of the Guantánamo Navy Hospital from July 2003 to January 2006. As such, he oversaw the operation of the hospital that provided medical care to Guantánamo prisoners during that period. Captain Edmondson has made a number of statements acknowledging that Guantánamo prisoners who refused nourishment have been fed, artificially, through tubes inserted into their noses and threaded down into their stomachs in a medical procedure known as "enteral feeding through nasogastric tubes". Captain Edmondson has also admitted that some of these feedings involved the use of physical restraints. It should be pointed out that Captain Edmondson does not believe that his actions contravened any internationally agreed legal or ethical standards. Rather, he believes that involuntary feeding is warranted because Guantánamo prisoners do not meet the ethical standards for self-determination as (a) their mental state is affected by malnutrition, (b) they are not free of coercion, and (c) they do not have family members present to participate in their decisions. Moreover, he finds that this feeding is "very voluntary", as some of his enterally fed prisoners (a) did not choose to remove their own feeding tubes. Rather, they actually (b) participated in the feeding process itself by initiating and controlling the flow of nutrition (see Letter to David Nicoll and Declaration, paragraphs 7 and 15). Captain Edmondson's arguments have not mollified his critics. See for example the letter in the 11 March 2006 issue of The Lancet (signed by 263 physicians), the article in the 28 September 2006 issue of the New England Journal of Medicine, the commentary in the 1 August 2007 issue of the the Journal of the American Medical Association, or the letter in the 8 September issue of The Lancet (signed by 266 physicians). The testimony of involuntary and physically restrained feeding offered by Captain Edmondson is as follows:

(E1) Contrary to petitioner's counsel's assertions, no detainee participating in the hunger strike has ever been placed in six-point restraint to receive intravenous medication. Only rarely are detainee patients unwilling to have the nasogastric tubes inserted. On only one occasion has a detainee patient been placed in a six-point restraint to receive a nasogastric tube and within minutes of placement the restraint level was reduced to two-point restraint, which would allow the detainee to remove the tube if he chose. In less than ten cases have trained medical personnel had to use four-point medical restraint in order to achieve insertion […] Virtually all of the detainee patients accept insertion of nasogastric tubes without additional restraints (Edmondson, Declaration, paragraph 7).

(E2) Currently only 10 french (3 mm. in diameter) nasogastric tubes are used on all patients. Originally, 12 french (3.6 mm. in diameter) tubes were used for most detainees receiving daily feedings. During a two-day period in September, 2005, 16 french (4.8 mm in diameter) tubes were used for a few patients when medical personnel at the detention hospital attempted to implement a U.S. Bureau of Prisons protocol for higher volume feeding that would allow the detainees to remain in their cells for more of the day. This protocol involved the insertion of the feeding tube twice per day, with the tube being sanitized before each insertion, but the protocol was abandoned after a two-day period […] The 3 mm tubes are soft and flexible, and are in common use as nasogastric tubes in hospitals throughout the United States (Edmondson, Declaration, paragraph 9).
(E3) [C]onsistent with JTF-GTMO policy, detainees are counseled concerning the risks of not eating and alternatives to involuntary feeding. The counseling occurs on multiple occasions, including when a detainee has refused nine consecutive meals, prior to the onset of tube feeding, and at various times during the period of time the detainee chooses to be tube fed (Edmondson, Declaration, paragraph 10).

(E4) On October 1, 2005, after meeting with his lawyer earlier in the day, ISN 114 [i.e. Mr. Yussef Mohammed Mubarak al Shiri] removed his feeding tube and incited seven other detainees on Papa block with feeding tubes to do the same. As an explanation for why he removed his feeding tube, ISN 114 reported that his lawyer told him that the government does not have any right to force feed the detainees. In response to this situation, which created significant problems on the cell block, on October 2, 2005, one of my physicians met with the detainee patients and explained again why involuntary feeding was being done and that the involuntary feeding was authorized through a lawful order of a higher military authority (Edmondson, Declaration, paragraph 16). [Note: Papa Block is the special cell block for detainees who are being fed enterally. See Edmondson, Declaration, paragraph 11].

(E5) With regard to the specific condition of ISN 114, he is stable and his prognosis is good. He has been a hunger striker since 11 August and has been fed enterally since 25 August 2005. He now resides on Papa block, has no restraints in his cell and voluntarily leaves his feeding tube in place. Previously, he had been in the detention hospital and was released and returned to the cell block with his feeding tube removed for two days in September in an effort to encourage him to eat. He was offered food and water during that time. However, after refusing to eat for two days, ISN 114 was returned to the detention hospital, re-hydrated, and his enteral feeding was then resumed. While ISN 114 has had demonstrable weight loss due to his choice to participate in the hunger strike, he has had no serious complications and is able to talk, walk and even participates in scheduled recreation three times per week (Edmondson, Declaration, paragraph 17). [Note: Papa Block is the special cell block for detainees who are being fed enterally. See Edmondson, Declaration, paragraph 11].

(E6) I am also familiar with the condition of ISN 440 [i.e. Mr. Mohammed Ali Abdullah Bwazir]. He, too, is stable and his prognosis is good. He chose to participate in the hunger strike on 9 August and has been fed enterally since 25 August […] he, too, has had a demonstrable weight loss due to his choice to hunger strike […] (Edmondson, Declaration, paragraph 18).

(E7) Captain John S. Edmondson, an emergency physician and the commander of the medical group that delivers the prisoners' care, told us that eight of the patients had been admitted for involuntary tube feeding, to treat the medical consequences of their prolonged hunger strike. We were told that 25 prisoners were on hunger strike that day (a decline from 131 on the anniversary of the September 11 attacks) and that 22 were being fed by nasogastric tube—most while in their cells […] military health care providers are "screened" before deployment to Guantanamo "to ensure that they do not have ethical objections to assisted feeding," Edmondson told me (Okie, Glimpses of Guantánamo, page 2530).

(E8) In actuality, I am not currently force feeding any detainees. I am providing nutritional supplementation on a voluntary basis to detainees who wish to protest their confinement by not taking oral nourishment (Edmondson, Letter to David Nicholl, paragraph 1).


Sources