Secret Release Libya Only, April 6, 2004
SECRET RELEASE LIBYA ONLY
6 APRIL 2004
SUBJECT: GUANTANAMO BAY
1. IN RESPONSE TO YOUR REQUEST TO INTERVIEW LIBYAN NATIONALS AT GUANTANAMO, WE ORDER THE FOLLOWING INFORMATION.
2. PLEASE SEND AN OFFICIAL DIPLOMATIC NOTE TO THE U.S. INTEREST SECTION IN TRIPOLI FROM YOUR FOREIGN MINISTRY TO REQUEST TO VISIT DETAINEES AT GUANTANAMO BAY. PLEASE NOTE THAT WE DO NOT CONTROL WHICH SERVICES VISIT GUANTANAMO BAY AND FOR THE DATES APPROVED, THOUGH YOU MAY NOTE YOUR PREFERRED DATES.
3. PLEASE INCLUDE A COMPLETE LIST OF NAMES OF ANY DETAINEES WHO ARE TO BE INTERVIEWED WHO ARE NOT REPEAT NOT NATIONALS OF YOUR COUNTRY. IT IS NOT NECESSARY TO PROVIDE ADVANCE INFORMATION ON NATIONALS OF YOUR COUNTRY. PLEASE ALSO PROVIDE COMPLETE VISITOR INFORMATION (FULL NAME, DATE AND PLACE OF BIRTH, PASSPORT NUMBER WITH ISSUE AND EXPIRATION DATE, ANY OTHER NAME PREVIOUSLY USED).
4. THE U.S. DEPARTMENT OF DEFENSE CONTROLS ACCESS TO GUANTANAMO BAY, AND OUR ORGANIZATION WILL WORK WITH THEM TO ARRANGE YOUR VISIT. THE NEED TO COORDINATE WITHIN OUR GOVERNMENT FOR YOUR VISIT MAY TAKE AS LONG AS TWO TO THREE MONTHS, AND WE REQUEST YOUR PATIENCE IN ADVANCE. REGARDS.
SECRET RELEASE LIBYA ONLY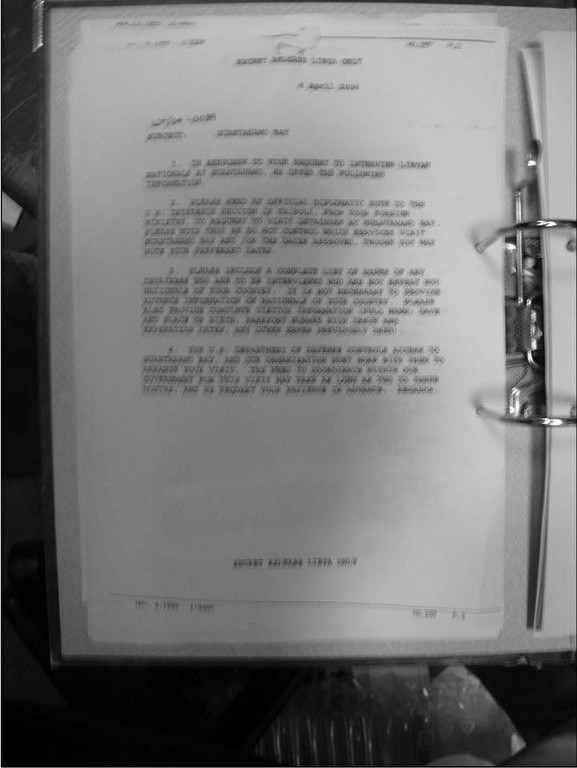 Get original here