Sailor's photos became icons of Guantanamo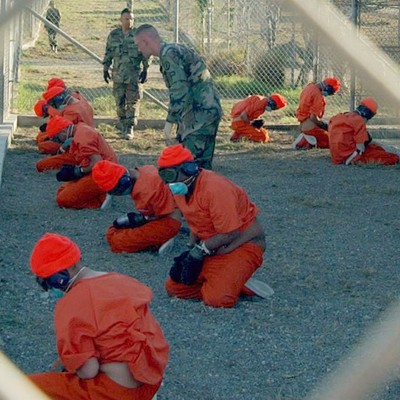 Shane McCoy shot this and other photos of U.S. detainees Jan. 11, 2002. Masks
were used to follow the 'spirit' of the Geneva Conventions. US Navy Photo Via AP.
McClatchy Newspapers
by Carol Rosenberg
January 13, 2008
Pentagon sent them out, wishes it hadn't
WASHINGTON - The first surprise may be that the most enduring images of the prison camps at Guantanamo were taken by a U.S. sailor doing his job.
Second is that Navy Petty Officer Shane McCoy didn't look through a viewfinder to photograph the captives in shackles on their knees as Army guards hovered nearby.
He set a timer, hoisted his Navy-issue digital camera on a stick -- a monopod -- and it clicked.
"I've seen them in magazines, on television, on the Internet," said McCoy, 33, now ending a 14-year Navy career. "If I do a search for my name, there's like 16,000 hits on those photos. They're everywhere."
Six years ago, McCoy took those now-iconic images of the first detainees to land at Guantanamo Bay, Cuba -- capturing a moment of men on their knees in orange jumpsuits behind barbed wire fences.
Too late to pull them back
And, much to the Pentagon's chagrin, the images won't go away.
The date was Jan. 11, 2002, and homemade snapshots of guards tormenting nude detainees in Abu Ghraib, Iraq, were two years away. News photographers in Baghdad had yet to swarm around toppling Saddam Hussein statues.
In remote Guantanamo, Marine Brig. Gen. Michael Lehnert told a handful of reporters that the nascent prison project was getting "the worst of the worst" of Taliban and al-Qaida prisoners from Afghanistan, 8,000 miles away.
McCoy was assigned to Combat Camera, an elite unit that took secret pictures not for the public but the Pentagon leaders. He was the only photographer allowed that day at Camp X-Ray, the first of a series of prison camps that across six years would hold and interrogate more than 750 captives, with 275 there today.
He was outside a makeshift, open-air holding compound where the captives were kept on their way to registration for the camp -- now defunct after housing 300 men and boys in the earliest days.
The sailor said it was just another job: Take pictures. Choose some. Write captions. Send them to Washington.
The next thing he knew, they were on CNN -- a week later.
Pentagon's reassurance
That's because at the Pentagon, the Bush administration was debating how to reassure the world that its evolving detention strategy was humane -- if not exactly in keeping with the Geneva Conventions by policy, then in keeping with what commanders would come to call "its spirit."
So, as then-spokeswoman Torie Clarke wrote in her memoirs, "Lipstick on a Pig," releasing pictures that didn't show detainees' faces seemed like the smart thing to do.
Pentagon policy to this day dictates that by shielding a Guantanamo detainee's face from view -- blurring it, chopping him off at his beard, or in that instance, hidden beneath a cap, surgical mask and blindfold -- spares a captive humiliation banned by the Geneva Conventions.
"Did I ever misread what was in those photos," she wrote. "The problem wasn't that we released too much, it was that we explained too little ... which allowed other critics to say we were forcing the detainees into poses of subjugation."
Photo not full context
But lost in the furious reaction, said McCoy, was that detainees "simply weren't kept like that."
"They were wearing gloves because it was cold," McCoy said. "I mean, they were flying at 30,000 feet in an unheated back part of the plane; they were wearing hats for the same reason. They did say the goggles were blacked out so they couldn't communicate and plan to attack a guard -- it made sense to me."
U.S. military officials won't identify the first 20 men who arrived at the base -- shown in the photo.
A Miami Herald study has identified 19 of them, through Department of Defense documents and interviews, and tried unsuccessfully through lawyers and intermediaries to speak with the seven since released.
One, Australian David Hicks, convicted as an al-Qaida foot soldier, just completed a nine-month sentence. He is now free in his hometown of Adelaide -- but under a U.S. gag order that forbids him to talk about his treatment at Guantanamo.
It is hard to pinpoint the moment the pictures became so prevalent.
Soon after their release, the Pentagon took them off its own Web sites and labeled them "For Official Use Only," to prevent further distribution.
Military escorts let civilian news photographers take pictures of detainees -- but only out of focus, from behind, or if they cropped a captive's face from the photo and show him from the beard down.
The Pentagon has also tried to discourage news organizations from using the photograph. But Carlebach says the military's efforts overlook the point of what makes a photo iconic.
'These guys are pathetic'
Time moves on, but the instant comes to tell a larger story. "They're kneeling with that anti-personnel barbed wire in the foreground, and it does not describe blood-thirsty jihadists. These guys are pathetic looking in their bright orange pajamas."
For those who want to see a captive bowed, it provides a certain satisfaction. For those who believe the policy swept up innocents, it tells another story.
But McCoy never saw it either way. He was too busy.
And he never got in trouble for making those pictures.
A few weeks later, Secretary of Defense Donald Rumsfeld toured the prison camp. "I told him, 'Hey, I'm sorry my photos caused all these problems.'
"He told me not to worry about it, I was doing my job. And that was about it."
Get original here.