Guantánamo: Five Years of Abuse
Locals join outcry: Protesters blast Guantanamo, war
By Cory Golden/Enterprise staff writer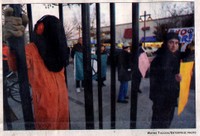 A man in an orange jumpsuit and hood kneeled in a mock cage and, later, candles flickered in the dark as protesters in Davis joined scores worldwide Thursday, demanding the U.S. detention camp at Guantanamo Bay, Cuba, be closed and opposing President Bush's plan to send more troops to Iraq.

About 45 people gathered on the E Street Plaza to mark the fifth anniversary of the first prisoners being taken from Afghanistan to Guantanamo. In Cuba, protesters including Cindy Sheehan marched with the mothers of a Guantanamo prisoner, a New York firefighter killed on 9-11 and other peace activists, while demonstrators in Washington, London and other cities, as well as U.N. Secretary-General Ban Ki-moon, called for the prison's closure.

Later an organizer-estimated crowd of more than 80 anti-war protesters clustered onto the corners at Fifth and B streets. They joined others in Sacramento, San Francisco, Boston, New York and other cities at 498 planned protests led by members of the liberal group MoveOn.org to oppose the increase in troops.

At the E Street Plaza event, protesters held signs reading "Torture is terrorism," "Guantanamo shames us all" and "Fair trials for all." Many, like organizer Almerindo Ojeda, donned orange "Shut down Guantanamo" T-shirts.

Ojeda, the coordinator for the UC Davis Center for the Study of Human Rights in the Americas, said he believed if more Americans understood Guantanamo's history they would demand their elected leaders close the prison.

"One of the things that people don't realize is that more than 80 percent of the prisoners were captured not by Americans but by the Northern Alliance in an area where there was a bounty for al-Qaida and Taliban members," he said. "So the vast majority were not al-Qaida - they were turned in by people who had a grudge against a neighbor or something like that.

"(These prisoners) went from arbitrary arrest to indefinite, secret detention - some of them for five years, already - and (have been) subjected to torture. The government is trying to confuse the issue about what is torture, but if you are shackled to the floor for seven, 10, 12 hours or more, that I think counts as torture by anybody's standard.

"If you add to that that they turn the lights off in the cell and have these strobe lights going and

ear-splitting music, if you add the temperature manipulation, it is downright torture."

The U.S. military is holding about 395 men on suspicion of links to al-Qaida or the Taliban, including about 85 who have been cleared to be released or transferred to other countries. The military says it wants to charge 60 to 80 detainees and bring them to trial.

The military says the detention center is vital to the fight against terrorism and that instances of abuse have been investigated and the perpetrators disciplined. The detention camp commander, Adm. Harry B. Harris, says aggressive interrogation tactics are no longer used.

While Ojeda said he hoped the new Democratic majority in Congress would hold hearings soon, local attorney Paul Gerowitz of the Yolo County ACLU said he saw no one in Washington making a real effort to close the prison.

Meanwhile, each day it stays open, Americans look like "hypocrites" to the rest of the world, Gerowitz said.

"We talk about freedom and democracy, we've got this great document the Bill of Rights, but we flaunt it so long as the president says these are bad people. We lose all credibility," Gerowitz said. "The Fifth Amendment says that no one should be deprived of his liberty without due process of law.

"Dick Cheney and George Bush may think this is due process, but I don't think it is. I can't imagine that anyone can say that it is when you hold someone without charging them with a crime, without showing them the evidence, without access to an attorney, then say, 'We're going to hold tribunals, so stop whining.' I know Congress has a lot to fix, but this is an important issue."

Shannon Tarter, a senior UCD psychology major, is working to revive the campus' chapter of the human rights group Amnesty International. She called keeping Guantanamo open "very sad."

"If another country did this to our citizens, there would be a huge outcry and our government wouldn't allow it," Tarter said. "It's sad that at a time when the U.S. needs allies, we're ignoring the laws of other countries, international law and even our own laws. It's making the world an unsafe place for Americans."

For more information about the UCD chapter of Amnesty International, contact srtarter@ucdavis.edu. Online: humanrights.ucdavis.edu, moveon.org.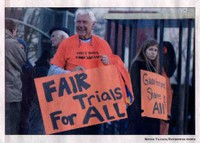 The Associated Press contributed to this report.
- Reach Cory Golden at cgolden@davisenterprise.net or 747-8046.

Friday, January 12, 2007